45mm Square Hydraulic Disc Brake Axle
45mm square hydraulic disc bake axle kits are for use on boat trailers due to the anti-corrosive characteristics. The 45mm square hydraulic axle assembly is our most popular seller.
This axle group is rated
1450kg for Slimline Bearings
1600kg for parallel bearings
Boat trailers use hydraulic disc brakes due to the anti-corrosive characteristics of galvanised disc braking system.
All Couplemate marine disc braked axles are Australian made and galvanised.
Did you know Couplemate Trailer Parts have a lifetime warranty against faulty craftsmanship?
Yes, it is true, however, this warranty does not cover consumables such as bearings and disc pads.
This Hydraulic Disc Brake Axle Kit includes:
45mm Square Axle rated @ 1450kg - 1600kg
Galvanised axle is an optional extra and available upon request
Couplemate has disc braked axles to suit the following wheel stud patterns
Ford SL
HT Holden SL
HQ Holden SL
Commodore SL
5 Stud Landcruiser SL
6 Stud Landcruiser SL
5 Stud Landcruiser Parallel
6 Stud Landcruiser Parallel
Purchase 2t American Stainless Rotor and Caliper setups here.
Calculating The Correct Axle Measurements
Measure the offset wheel. The wheel offset is the distance between the inside of the hub and the outside of the rubber.
Add 50 mm to the offset. Alternatively, choose your own distance between the rubber and the chassis.
Multiply by 2 for both sides. Add your chassis width to the above number.
Metric to Imperial Converter
Convert Imperial (inches) to metric (mm)
Still unsure of what measurements to take? Check out this handy guide below:
[P] - Check material specifications. What size and profile is the axle (for example, 45mm Square)
[T] - Overall axle length (tip to tip)
[F] - Hub face to hub face measurement
[A] - Chassis width
[C] - Tyre clearance
[B] - Back offset
[H] - Tyre to chassis
[G] - Axle pad centres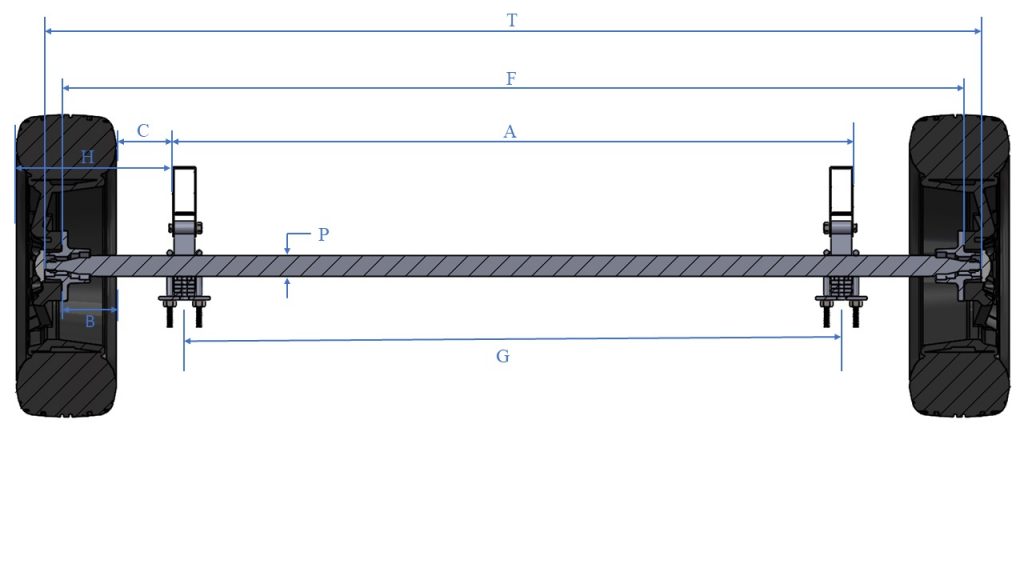 Identifying Bearing Combinations
You will also need to identify your bearing combination which can be done by pulling off a hub and bearings, and locating the number laser engraved onto the bearing. You will require both the inner and the outer bearing number.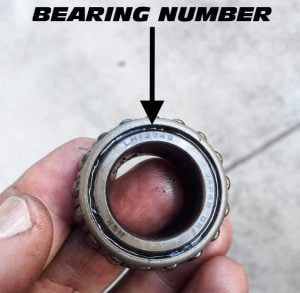 Review axle kit with various braking systems here
Additional information
| | |
| --- | --- |
| Weight | 70 kg |
| Dimensions | 240 × 50 × 50 cm |
| Stud Pattern | 5 Stud Landcruiser – Parallel, 6 Stud Landcruiser – Parallel, Ford (5 x 114.30mm), Holden HT (5 x 107.95mm), Holden HQ (5 x 120.65mm), Holden Commodore (5 x 120mm), Land Cruiser 6S, 5s Landcruiser (5 x 150mm) |
| Face to Face Length | 1325mm, 1350mm, 1375mm, 1400mm, 1425mm, 1450mm, 1475mm, 1500mm, 1525mm, 1550mm, 1575mm, 1600mm, 1625mm, 1650mm, 1675mm, 1700mm, 1725mm, 1750mm, 1775mm, 1800mm, 1825mm, 1850mm, 1875mm, 1900mm, 1925mm, 1950mm, 1975mm, 2000mm, 2025mm, 2050mm, 2075mm, 2100mm, 2125mm, 2150mm, 2175mm, 2200mm, 2225mm, 2250mm, 2275mm, 2300mm, 2325mm, 2350mm, 2375mm |